The ultimate New Mexico enchilada
The ultimate New Mexico enchilada.
This molten melding of chile, cheese, and corn tortillas is not your ordinary meal.  These enchiladas are filling enough to stand on their own – unlike in most places, in New Mexico the tortillas are generally stacked rather than rolled which makes the dish more substantial.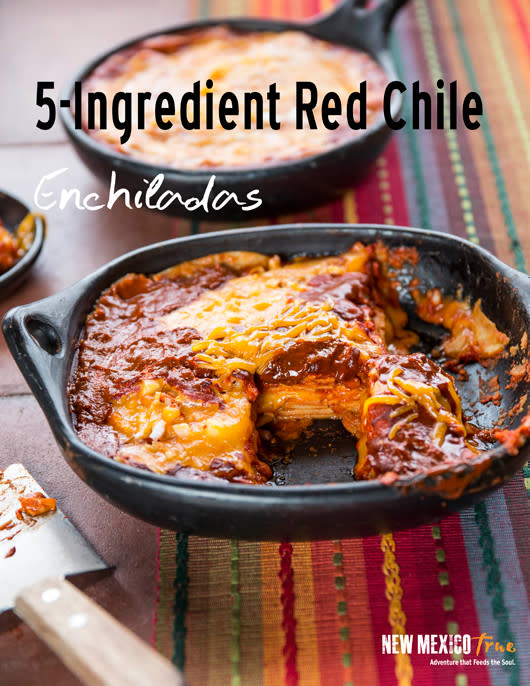 Servings: 1
INGREDIENTS
Vegetable oil for pan frying

3 blue-corn tortillas

2 teaspoons minced onion

4 ounces mild Cheddar, Colby, or Monterey Jack cheese, grated
DIRECTIONS
Heat the broiler. (If the broiler has multiple heat settings, use the lowest.)

Heat ½ to 1 inch of oil in a small skillet until the oil ripples. With tongs, dunk each tortilla in oil long enough for it to go limp, a matter of seconds. Don't let the tortilla turn crisp. Drain and repeat with the remaining tortillas.

On a heatproof plate, layer the first tortilla with half of the onion and one-third of the chile sauce and cheese. Repeat for the second layer. Top with the third tortilla, then add the remaining chile sauce and sprinkle the remaining cheese over all.

Broil the enchilada until the cheese melts. Serve piping hot
Red Sauce
Use the sauce in enchiladas, burritos, tamales, or smothered on top of basically anything. This sauce will keep up to 6 days refrigerated and freezes well.
BASIC RED CHILE SAUCE
1 tablespoon unsalted butter or lard
2 tablespoons all-purpose flour
¼ cup ground pure red New Mexican chile powder
2 cups broth (beef, chicken, or vegetable)
1 clove garlic, minced
Pinch each of ground or dried Mexican oregano and freshly ground cumin
Salt (optional)
In a heavy saucepan, melt the butter. Add the flour and cook, stirring, until the mixture turns slightly golden. Remove the pan from the cooking heat and stir in the chile powders. Stir in the stock. Continue stirring until the mixture becomes smooth. Add the garlic, oregano, and cumin and simmer for about 10 minutes. Taste and adjust the seasonings, adding salt, if desired.